The 1st book about sex for the blind in France
Reading time: 8 min
Good news for our blind friends, the very first book about sex in Braille in France has just been released and it is the technical book "The Art of Fucking". So I'm going to give you a little presentation of it, tell you why I decided to transcribe my book into Braille, and share with you some interesting information that the CTEB association, which deals with transcriptions, gave me. In short, you are warned, now behind each handler or handler of white cane can hide a Legend of sex.
THE ART OF FUCKING IN BRAILLE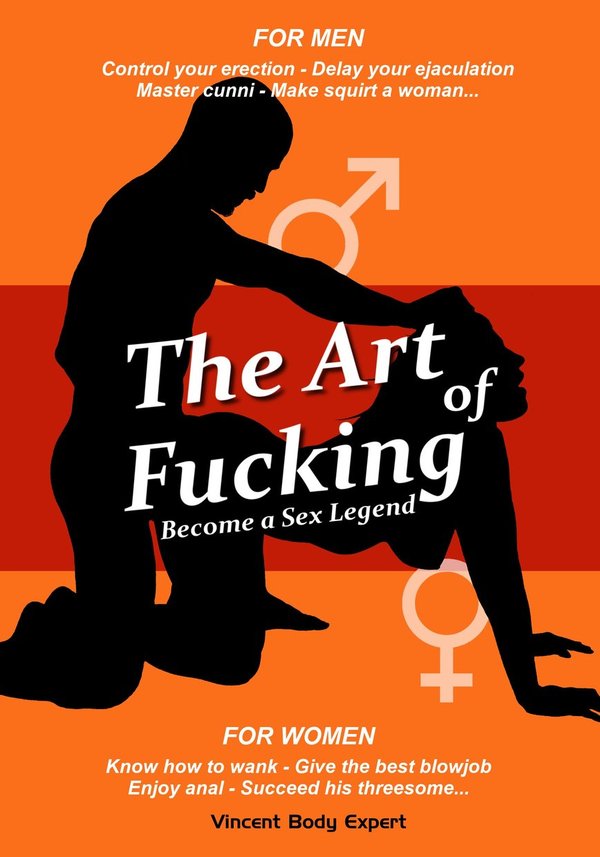 Known under the nickname Vincent Body Expert, I was an Escort Boy for 6 years, during which I had close to 1,400 conquests. From this experience, I developed extraordinary skills, and I perfected a multitude of techniques to master my body and provide maximum sensations and pleasure. Asked on social networks by many men and women to reveal my secrets, I then wrote a book listing all my professional techniques.
Men learn how to have a solid erection and be enduring in all circumstances, to provide phenomenal orgasms with fingering or cock thanks to the angles of penetration, to make any woman fountain, to develop their Alpha attitude which excites women, etc.
For their part, women learn how to do the best handjobs and blowjobs like Experts, how to excite a man like real Femme Fatales, how to have fun with sodomy, how to master threesomes, etc.
To find out about all the themes taught or to order the book in Braille, I invite you to consult the The Art of Fucking.
BLINDNESS & SEXUAL PERFORMANCE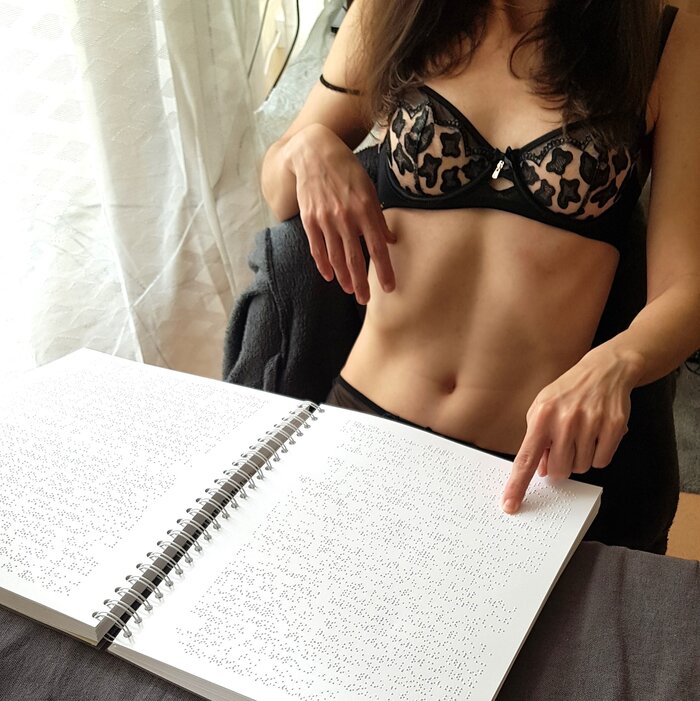 Regardless of the extent of the visual impairment of the person, know that it can be just as successful sexually and provide just as much pleasure as anyone who can see. Performance is linked to: knowledge, the ability to observe (through touch and hearing for the blind), the ability to adapt to the partner's reactions, and attitude. All these abilities do not require the use of sight and are therefore accessible to all blind people. This sex training has been developed so that anyone, even with one less sense, can reach the top level.
WHY AM I INTERESTED IN THE BLIND?
Deaf and blind, same fight
During my professional appointments with my clients, I met several deaf and dumb people, which made me aware of the difficulties of communication in a world where most of it is sound. Making a lot of videos on my YouTube channel, I immediately understood that my work was totally inaccessible to people with hearing loss because of the lack of subtitles. So I decided to add subtitles to all my videos to allow the hearing impaired to also access knowledge.
Afterwards I wondered, how do blind people do if they want to know more about sex, develop their performance, and provide more pleasure. So I searched the internet to see if there were any Braille books or magazines on sex. And there, to my amazement, there was nothing. Only a few erotic novels were available in Braille, but no book on the mechanics of sexuality. The sex sector is the 2nd industry in the world, and no professional has seen fit to make a gesture of mutual aid towards the blind. Consequently, I decided to fill this gap with the 207,000 blinds and 932,000 partially sighted people in France.
Braille Transcription and Publishing Center
So that blind people can also benefit from real advice on sex, I decided to have my technical manual on sex transcribed into Braille. And after some research on the Internet, I came across the site of the Braille Transcription and Publishing Center (CTEB). I then contacted this association whose manager thanked me for my approach, confirmed to me that there was indeed no work on sexuality, and that it would probably be interesting to fill this absence. I then sent my manuscript to his reading committee to find out if he was interested, and despite disagreements within their committee, the manuscript was finally validated. So it's official, I've published the very first blind sex book in braille. And it's nice to think that we will be able to provide support, and help to better understand and experience sexuality to people who until then have been sidelined on this subject, which nevertheless concerns everyone.
As I indicated previously, before being validated, the book "The Art of Fucking" was the subject of divisions and controversies within the committee of the CTEB. Some people appreciated the straight talk and its uncompromising approach to reality, while others didn't appreciate this style at all. Therefore, a CTEB manager saw fit to interview me in order to better understand the message of my book to people who would consider it a little too rough. I invite you to discover this very interesting interview.
THE BRAILLE BOOK INDUSTRY
Not knowing the publishing sector for the blind, the CTEB shared information on this subject with me which is very interesting to know. To begin with, among all the books published annually in France, only 3% of the books are transcribed into Braille, which offers a very limited choice of reading material for the blind.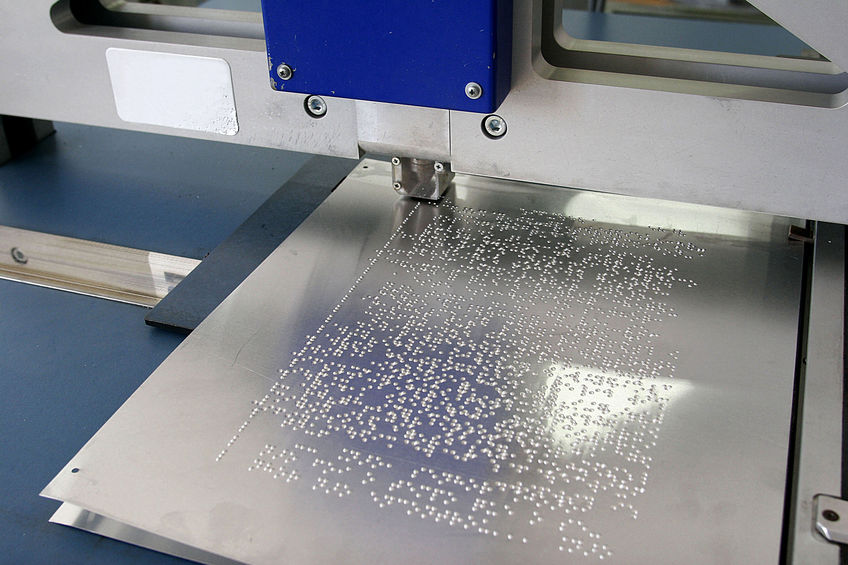 Then, the average cost of manufacturing a Braille book is around 550 € for a book of around 240 pages in the sighted version. And the cost of manufacturing in Braille can reach up to around 1,800 € when some books for the sighted have nearly 700 pages. To have an element of comparison, the cost of manufacturing a pocket book for the sighted is around 1.50 € for a large publishing ho use and 13 € for a self-publisher. So as you can see, braille is much more expensive to manufacture.
Braille books are then sold to individuals between 30 € and 60 €. Their selling price being significantly lower than their production cost, their manufacture and the remuneration of the dozen employees is only possible thanks to donations from the public, government subsidies, and the work of volunteers. Consequently, the sale of books in Braille does not allow the CTEB to operate financially independently, nor to remunerate all the actors of the association or the authors. So if you feel like contributing to the provision of new knowledge and reading material for visually impaired people, you can make a donation to the CTEB.
The very 1st system of reading and coding for the blind dates back to the 13th century in Iraq. Its creator is Imam Zayn Ud Dîn 'Ali Ibn Ahmad Al Âmidi who was also a jurist and university professor. Having lost his sight during his youth, he was the first to take an interest in and design a reading system for the blind using fruit stones.
Over the following centuries, other equally inventive people developed new reading systems for the blind. And it was in 1808 that a certain Charles BARBIER, a former artillery officer, invented the nocturnal writing system for military purposes. This system was based on sonography, a transcription of sounds using raised dots placed on a 12-point grid. This ingenious system made it possible to send messages to soldiers that were both coded, and therefore secure, and capable of being read in low light conditions, including darkness.
Aware of the potential of his work for the blind, Charles BARBIER presented his reading system to the Royal Institute for Young Blind People in 1820, but the current Director showed no interest in it. The following year, Charles BARBIER made a second attempt to present his work, and a new Director who took his place accepted that Charles BARBIER taught the students his method.
Among the students of the institute, a certain Louis BRAILLE, then 12 years old and blind since he was 3 years old, showed great interest in the method of Mr BARBIER. From this base, Louis BRAILLE did his own research. And it was in 1825, at the age of 16, that Louis BRAILLE developed most of his system, modifying and optimizing the code. He reduced it from 12 points to 6 points and changed the sonographic signs to typographic signs.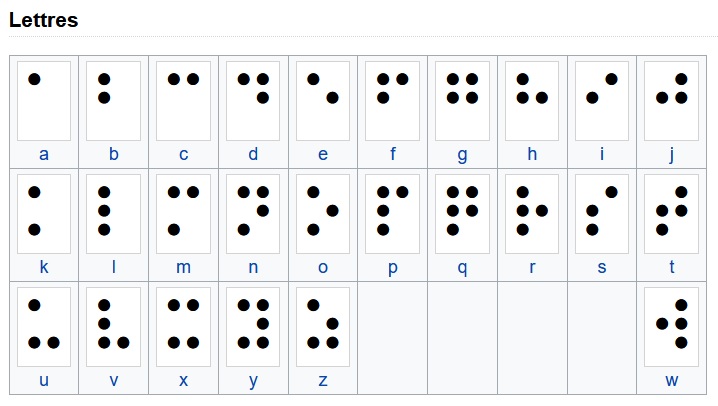 Recognized as the most successful and effective method for the blind, Braille reading was taken as an example all over the world and spanned the centuries. Note that Braille is a code and not a language. Therefore, each country uses this code representing the alphabet by using it in its language. To date, more than 253 million visually impaired people around the world can read and learn more easily through Braille reading.
I would like to thank the Braille Transcription and Publishing Center for agreeing to transcribe my book "The Art of Fucking". The CTEB made it possible to transcribe the very first book on sex into Braille in France, and to offer blind people the same access to professional knowledge as sighted people.